Hello gorgeous people and welcome back! So recently one of my good friends decided to start her journey to embracing her single season ( YOU GO GIRL!) and asked me what are some things I did to keep focused! It made me really think because that was a good question, I had to take a minute and really figure it out. So after doing some research and going back over some of my own experiences so far, 10 things to do while embracing your single season was created! Enjoy and God bless you always!
---
1.The main reason why I chose to embrace my single season was because my relationship with God was a wreck. At that point in my life it was hanging on by a thread, and I mean like a very thin thread. I knew that God was trying to get my attention and he never stopped fighting for me and finally I gave in and that's when I decided to embrace the season that God had placed me in instead of fight it.
Have quiet time, attend bible study, listen to worship music, or do anything that will bring you closer to him! Set a time everyday where you just sit in God's presence and allow him to speak to you and comfort you. I know sometimes it feels like God has left us but in reality it's really us who has left God. Meanwhile he is just patiently waiting for us to come back and he will welcome you back with open arms. Strengthen your relationship with God y'all, this is a major key.
---
2. This has definitely been one of my favorite things to do while embracing this season. I've been fortunate to visit Seattle and Los  Angeles this year and I'm already planning for next year's adventures! I would strongly suggest traveling because honestly you never know how much time you will have to do so when you are married and have kids. This is a time where you can literally explore this beautiful world that God has given us and experience so many new cultures and adventures. A little tip for traveling is definitely planning ahead and also check out sites like Priceline or Expedia for great deals! So go see the world my lovely readers, whether it's just a simple road trip, or traveling oversees, just GO!!!
---
3. Y'all once upon a time I used to actually be self conscious about going to places by myself, silly right? Fast forward to now and I LOVE going on self dates! One of my favorite things to do is go to Studio Movie Grill, get a super yummy meal, and watch the latest animation film!  Y'all this is a time where you can really spoil yourself! Take that time out to just relax and do something you enjoy doing. Whether its taking yourself out to eat, getting a pedicure, seeing a movie, going shopping ( also my favorite lol), or even just reading a book at Starbucks. Whatever you enjoy doing, go do it! It's so important to know how to be content and alone because then when you are in a relationship you aren't looking for that person to fill a void that you think needs to be filled.
In the wise words of  Donna from Parks and Recreation….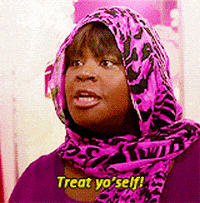 ---
4. Y'all this is another big one, well at least to me it is. When I think about everything that I've been through over my 23 years of life, other than God my family has ALWAYS been there for me. So as I'm getting older, I know that there will come a time where I won't be able to see them as much as I want to or just hang out. That's why it is so important to take advantage of that time now! If you haven't spoken to your parents in  a while, give them a call and invite them to dinner! If you have siblings and you guys haven't hung out in what seems like forever, go ahead and go see a movie or have a movie night in!
---
5. After I made the decision to embrace my single season one of the things I prayed about was that God would reveal to me my purpose on this earth. I went through an extremely tough time, which I will share about later, where I had absolutely no idea why I was on this earth and that really bothered me. I would say about three months after I begin this season the Lord revealed my purpose to me and I've been walking in it proudly ever since!
So if you don't know what God want you to do my suggestion would to definitely make that one your prayers to him! Ask him that when it's time that he reveal it to you and that ultimately his will be done in your life. Now if you do know what your purpose is then I definitely urge to be extremely bold in it! Be sure to draw closer to God even more now, so that he will keep guiding you and ordering your steps according to his will!
Habakkuk 2:3 For still the vision awaits its appointed time; it hastens to the end—it will not lie. If it seems slow, wait for it; it will surely come; it will not delay.
---
6. At the beginning of this year I was still playing around with the idea of starting  a blog, I had made several unsuccessful attempts  in the past and didn't want to have another failure. So after the Devil tried to take me out I knew that he was obviously trying to prevent something great from happening! After recovering from that attack, I set the goal that I would launch MWestStyle before the end of the year. Lo and behold we were up and running by September!
Has there been something you've been wanting to do and for whatever reason you haven't done it? Well stop waiting and get up and set some goals to accomplish them! This is the perfect season to accomplish what you have set your mind to do because you have the time to focus and really put the time and dedication into it. So get to it!
---
7. Well first I pray that you are attending a bible teaching church and if you aren't just yet I pray that God leads you to the right place! Church is actually an amazing place where you can be surrounded by like minded people! If you have a passion to teach, why not volunteer to be a children's church teacher. If you love music then look into getting involved with the choir. Being involved for me at church actually helped me grow even more as a christian and also developed my leadership skills. You never know how God can use you and being involved can definitely reveal that.
1 Peter 4:10-11 "As each has received a gift, use it to serve one another, as good stewards of God's varied grace: whoever speaks, as one who speaks oracles of God; whoever serves, as one who serves by the strength that God supplies—in order that in everything God may be glorified through Jesus Christ. To him belong glory and dominion forever and ever. Amen."
---
8. OK so this something I'm definitely trying to be better about! But no honestly y'all being smart about your money when your single is definitely a plus! Establish great spending and saving habits now so that when you are married it won't be a problem. So sit down, set a budget, and save your money!
Also save so you when it's time to ball out you can be like our little friends below LOL!
---
9. OK y'all this is an important one! Yes you are currently single but you should also be preparing for the future as well! If it's in God's will for you to be married then you need to start preparing yourself for your spouse like now. For the most part I know what I'm looking for in a husband, and when I take a look at my list of standards I also look and see how many of those standards I'm meeting myself. You can't expect God to bless you with this wonderful spouse when you're not able to present something as well. The way I look at it is that I'm someone's wife. Though I have not the slightest idea who my husband is nor am I concerned because God doesn't need my help finding a man ( remember that for the near future!). I'm not going to be out here going out every weekend, shaking my behind on some guy I just met, or drink so much that I can't remember what happened the night before. I can say that because that literally used to be my life two short years ago and I had the nerve to think that I was ready to be someone's wife. WRONG!
Y'all pray to God now for him to prepare you for your spouse so that when the time comes for you all to meet you will be ready!
---
10. For some reason I used to think this was strange because I didn't know who my husband was going to be. Now granted I still don't, lol, but it's super important to pray for the man or woman God is preparing for you! What puts things in perspective for me is that I think about the struggles I go through daily as a young Christian adult, and I know my husband is living in the same world I'm living in and that he definitely needs to be covered in prayer! Y'all you have no idea what struggles your spouse is going through right now so that's why its so important to keep them consistently in your prayers!
---
OK y'all these are my 10 things to do while embracing your single season and I hope you all were able to get something from this! Let me know if you're in your single season and whats your favorite thing to do!
But this does wrap up another post and until next time…
Stay gorgeous and I love you!
MWestStyle